Journal article
'A seamless transition': how to sustain a community health worker scheme
published 18 June 2021
Health interventions introduced as part of donor-funded projects need careful planning if they are to survive when donor funding ends. In northeast Nigeria, the Gombe State Primary Health Care Development Agency and implementing partners recognized this when introducing a Village Health Worker Scheme in 2016.
This paper, published in Health Policy and Planning, presents a qualitative study focussing on the Village Health Worker (VHW) Scheme's sustainability.
The paper authored by IDEAS researchers aims to contribute to the body of literature on sustaining donor-funded interventions as well as presenting lessons aimed at decision-makers seeking to introduce similar schemes in other Nigerian states and in other low- and middle-income settings.
In 2017 and 2018, the team conducted 37 semi-structured interviews and 23 focus group discussions with intervention stakeholders and community members. Based on respondents' accounts, six key actions emerged as essential in promoting the VHW Scheme's sustainability:
government ownership and transition of responsibilities,
adapting the scheme for sustainability,
motivating VHWs,
institutionalizing the scheme within the health system,
managing financial uncertainties
and fostering community ownership and acceptance.
This study suggests that for a community health worker intervention to be sustainable, reflection and adaption, government and community ownership and a phased transition of responsibilities are crucial.
Tribute to Deepthi Wickremasinghe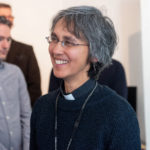 This article is based on the work of its lead author, Deepthi Wickremasinghe, who passed away in April 2020. An important part of Deepthi's work was to give stakeholders in Nigeria real-time feedback on emerging findings as the project developed. And so, Deepthi contributed very directly to the scheme's success. Deepthi made important scientific contributions to our understanding of sustainability for improved health and was a conscientious, kind, gentle and committed colleague who is greatly missed.