Tool
IDEAS Phase 1 Theory of Change and Research Questions
published 4 October 2012
The IDEAS team is using measurement and evaluation to understand which health innovations deliver the greatest impact on maternal and newborn survival at scale, as well as why and how they work.

We work in Ethiopia, North-Eastern Nigeria and in India. We aim to improve the health and survival of mothers and babies through generating evidence to inform policy and practice.
One of the main aspects of IDEAS' work is research testing the theory of change for improving maternal and newborn health put forward by the Bill & Melinda Gates Foundation.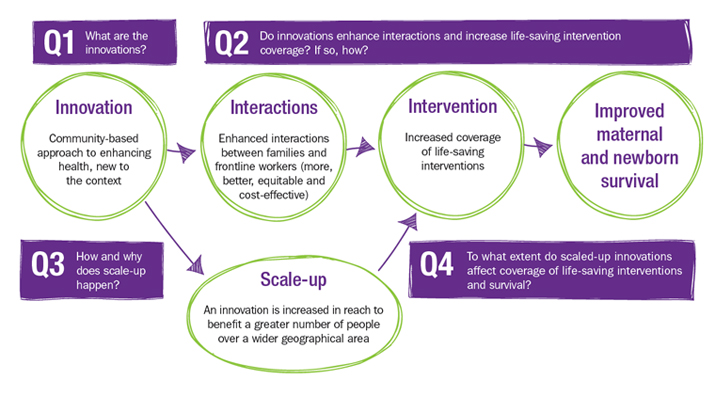 The theory of change for the Bill & Melinda Gates Foundation maternal and newborn strategy. Innovations enhance the interactions between families and frontline workers. This enables more mothers and babies to access life-saving interventions (increased coverage) leading to improved maternal and newborn survival. Over time, effective innovations are scaled-up from the areas in which they were introduced to the whole state or country and beyond, and  benefit more mothers and newborns. The questions IDEAS is asking to test the theory of change are:
What are the innovations?
Do innovations enhance interactions and increase life-saving intervention coverage?
How and why does scale-up happen?
To what extent do scaled-up innovations affect coverage of life-saving interventions and survival?