Blog Post
ICTs in maternal and child health poised for scale up in Uttar Pradesh, India
published 22 February 2013
Frontline health workers with mobile phones capturing complex data on pregnant women and children, women receiving SMS text reminders before their 'due' dates, mobile phone based training courses for health workers: the health sector in India is rapidly harnessing the power of technologies to streamline and enhance the quality of its maternal and child health services.
On 20 February, I attended a workshop on ICTs to improve maternal and child health services, organised by Intrahealth's Manthan project (also one of IDEAS' implementation project partners) in Lucknow in Uttar Pradesh.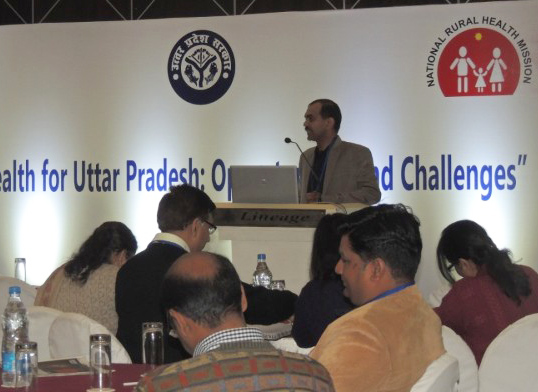 It was inspiring to hear vivid accounts of technology enabled health initiatives from different states in India:
Tracking maternal health: E-Mahtari [mother] in Chattisgarh, Arogyam in Uttar Pradesh and Dimagi's CommCare in Bihar are maternal and child health tracking systems to ensure complete immunization of women and children and safe deliveries with essential post natal care.
Capturing health data: Frontline health workers like Accredited Social Health Activitsts (ASHAs) and Auxiliary Nurse Midwives (ANMs) are tied in with the system through mobile phones that can be used for data capture and also for interacting with pregnant women.
Training health workers: The BBC Media Action has developed a Mobile Academy for training health workers through an audio based training course delivered via mobile phones.  There are currently 25000 fee paying health workers enrolled on this programme.
 mhealth tool for frontline workers to improve home-based newborn care: m-Sakhi, Manthan's own in-house innovation, delivers multi-media guidance on mobile phones to ASHAs to help standardise their home based newborn care services, and capture essential child survival data through simplified data entry techniques.
Capturing human resources information: Intrahealth has also supported the Government of Jharkhand to develop a human resources information system named iHRIS that provides systematic and customized information on 1800 doctors and specialists by cadre, location and training history.  They plan to include the private sector into this database in the future. The information is used for deployment and future planning of human resources.
Lessons learned from these initiatives can help in rolling out ICTs in Uttar Pradesh on a large scale.
Going to scale in Uttar Pradesh
As the government has the biggest platform to roll out new technologies across the state, it is important for new ICTs to be linked to government programmes in order to achieve scale up. In a lively panel discussion that followed the presentations, the Mission Director of Uttar Pradesh's National Rural Health Mission, Mr. Amit Ghosh, expressed the government's commitment to use ICTs to improve its health services.
It was interesting to hear plans for new state-side developments recently launched or on the horizon from Mr Ghosh:
GPS tracking of ambulances: The government's fleet of ambulances and delivery drop vehicles, the largest fleet in the country, is set to have a GPS based fleet tracking and management system.
Mapping health facilities: The government is planning a resource mapping system of all their health facilities to keep abreast of existing shortfalls and future requirements.
 Reducing inaccuracies in reporting: The state has had a good experience with initiation of the Government of India's online Maternal and Child Tracking System as errors and inaccuracies in reporting appear to be decreasing.  They are trying to improve and strengthen that system.
Connecting with frontline workers: Through a cooperative endeavour with BSNL (a public sector telecom provider), the MD NRHM can now talk to 19 officers at one time through a video telephone facility. Mr. Ghosh hopes to extend that facility one day to all the ASHAs and ANMs in the system.
ICTs could help to improve health services for women and children, and the government is examining several models closely for scaling up in UP.
Which ICTs are good to be scaled-up across the whole of Uttar Pradesh?
During the workshop, the most interesting debate was around the role of evidence in scaling up. Should a bank of evidence showing ICTs have improved health be gathered first, or should the government roll the new technologies out as soon as possible in order to reach the maximum number of people and achieve maximum impact?  Though opinions were divided, there was general consensus that all ICTs need to keep the final goal of maternal and child mortality reduction on the frontburner.
The challenge: ICTs and other health system improvements need to go hand in hand
It was heartening to note that the group was able to view the strengths and limitations of technologies in the right perspective.   There was recognition that ICTs cannot substitute for missing human elements, and that the use of data in decision making needs to be strengthened alongside the use of ICTs to capture health data.
Mr. Ghosh, the Uttar Pradesh National Rural Health Mission Director, expressed the government's resolve to improve governance alongside technology deployment. Issues of privacy and confidentiality would need to be addressed as well as reconciling with the old paper based health information system. Manthan's Project Director Mr. Amod Kumar said that an ICT vision and supporting policies would be required to steer the way forward for the state.
'Despite the challenges, ICTs will come into all spheres of public life, but rather than technology driving change in the health system, we need to make sure it is the health sector dictating the use of the technology'.
– Mr. Deepak Aggarwal, Special Secretary Health, Government of Uttar Pradesh